Summum Dental Laboratory
At Summum Dental Laboratory, you will be sure to
find products that meet

your expectations.

You will find crowns and bridges, removable dentures, implants, skeletal parts, preparatory work and orthodontics, backed by technical support, planning and fast turnaround times.
Product
Crowns and bridges
At Summum Dental Laboratory, the most recent processes in the fixed dental prosthesis industry are available. Indeed, the ability to integrate different technologies and materials is at the very core of our expertise. We also offer a case planning service, the key to success in treating your patients.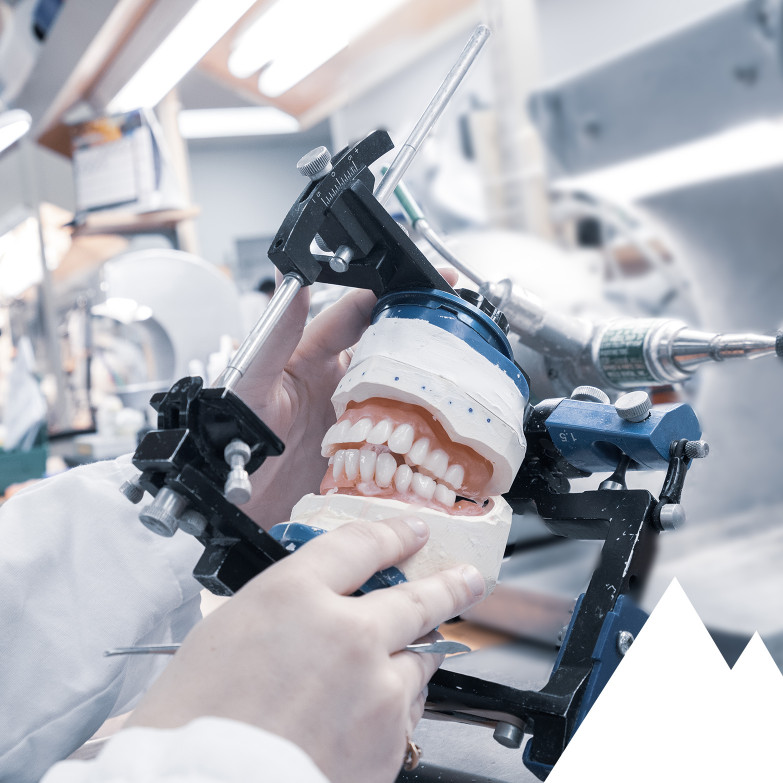 Product
Removable dentures
A formidable team is at your disposal to offer you access to all types of removable dentures. Our vast selection of available teeth ensures an aesthetic and natural result for your patients.
Product
Implantology
Summum Dental Laboratory is pleased to offer both fixed and removable implant restorations. No matter the system you use for your practice, rest assured that we have the compatible tools.
Product
Skeletal parts
All of our skeletal parts are computer generated and then printed in cobalt chrome. The possibility of sharing the design before printing ensures a 3D creation in line with the professional's choices.
Product
Preventive oral appliances
The various preventive oral appliances are all available at the Summum Dental Laboratory. Feel free to contact us to find out more about all the options available.
Orthodontics
Our experienced technologies allow us to offer you a service that adapts to your needs. It is also possible to customize the aesthetics of the devices so that your children may better take part in their treatments.
Support
Technical support and planning
Our laboratory has over 120 experienced technicians and assistants to serve your practice. Our ability to diversify into all types of prosthetics provides you with a comprehensive solution, no matter which treatment you offer your patients. Contact one of our service specialists who will be able to relate to your needs and ensure the success of your treatments. Call us at 1 800 5 SUMMUM to get the assistance you need.
Prices & deadlines
Fast turnaround times
We stand out competitively by the quality of the products and services we offer as well as by our operational capacity. Contact us at 1 800 5 SUMMUM to receive additional information on our timelines and prices.